MAKE YOUR ADS STAND OUT THIS WINTER HOLIDAY SEASON: TIPS AND TRICKS TO GET YOU THERE
We're in the thick of the holiday season, and if you're looking to inspire your company's marketing efforts, we've got you covered. Below are a few ideas that can help get your creative juices flowing, whether it's for social media or email campaigns.
As Bluehost shared in their article on a successful holiday social media campaign last year, there are at least 7 major business benefits coming out of a successful holiday campaign. They list the following:
Create and expand brand awareness
Give you an edge over the competition
Market your products
Increase holiday sales
Bring in new customers
Help you get feedback
Boost your social media presence
Given all of these benefits, no brand should be allowed the thought of missing the chance of taking the most out of a holiday season. What could you do this fall that will take your brand's game directly to the next level? Let's dive in.
Create a non-ordinary campaign that people will be talking about
Let's face it - holiday campaigns are boring. Shiny and bright but also really authentically boring. It's so rare when a company does something distinctively different as part of a holiday campaign. And whenever a brave brand does it, they usually get a lot more attention just because of its uniqueness.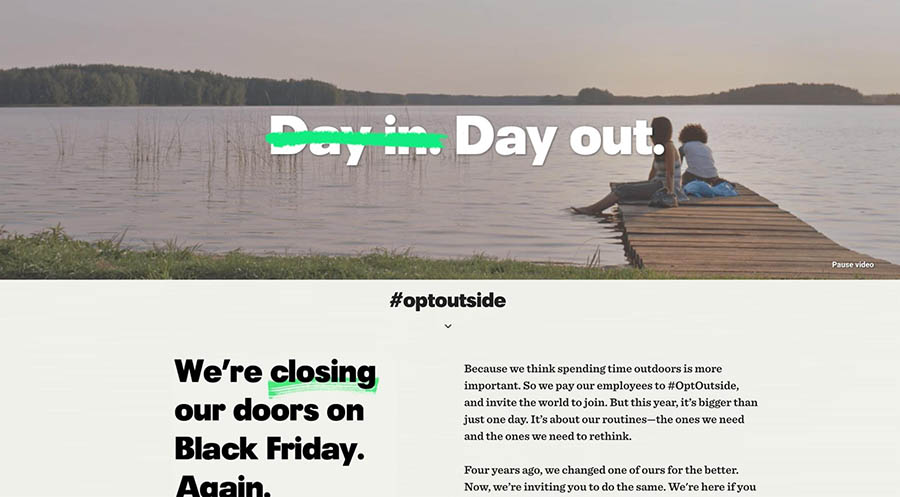 That's why you need to find a way to make a difference in your most valued brand community. Be it a social campaign or a bizarre way of showcasing your products, be unpredictable and success will be right there with you.
A good example is the "#OptOutside" Black Friday campaign by REI that started back in 2015 and has become a traditional yearly event for them.
What they do is that they keep all their stores closed for the entire day. Yep, that's right. They don't work.
The campaign aimed at getting employees and customers to spend Black Friday enjoying the outdoors rather than shopping indoors. A perfect combo between an attention-grabbing holiday-themed campaign with the company's brand values and brand identity.
Use the holiday season for an intense work session on brand awareness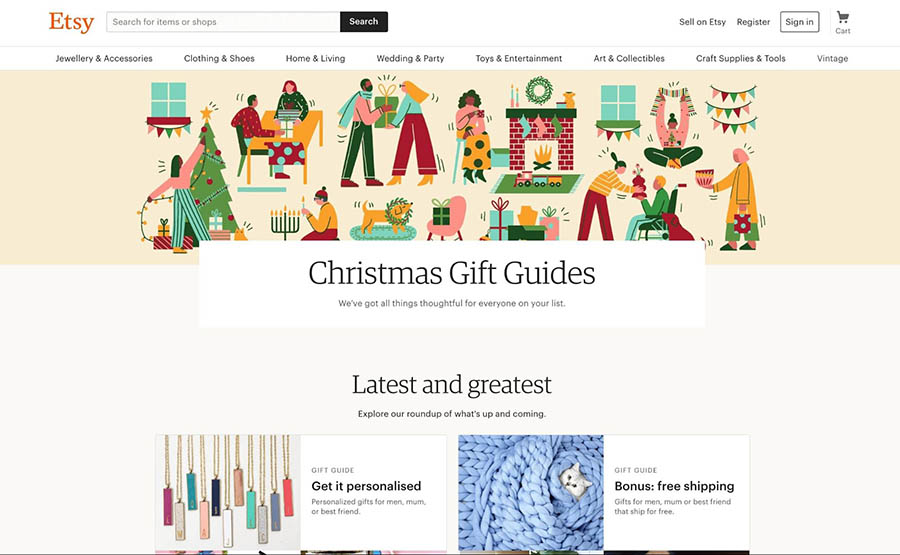 It's indeed an unquestionable fact that most brands focus their holiday marketing efforts on direct sales. Which doesn't always need to be the case.
Brand awareness is the usually uninteresting part of marketing that does not show quick and obvious results. Depending on the brand identity and the creative approach though, a brand awareness campaign could live long in the marketing battlefield and gain major benefits for the business side of things as well.
Providing their customers with a piece of unexpected added value was the approach Etsy used in their brand awareness holiday campaign showcased below. It's another thing that reoccurs on an annual basis after they reported its first success, the "Gift Guides" campaign has become an essential part of showcasing Etsy's identity traits.
Focus on a feeling and tie it to your brand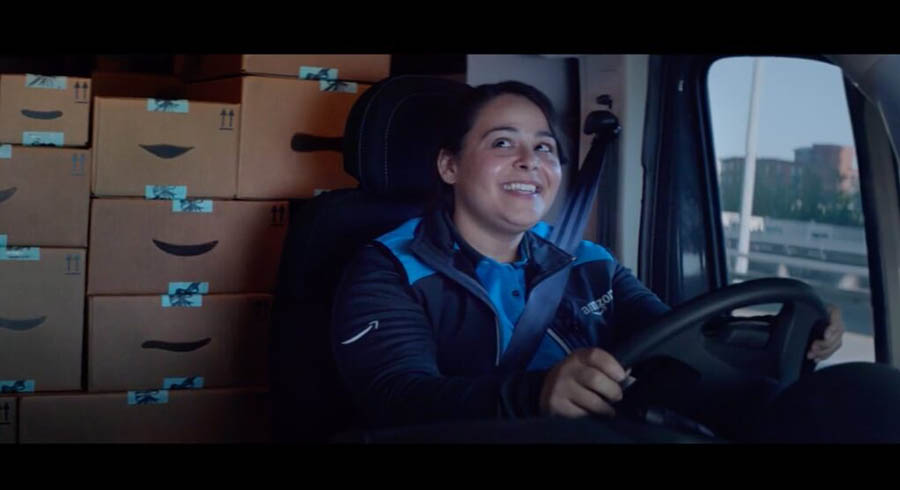 Get your customers to feel something nice and cosy. Make them remember it and connect it with your brand. As simple and easy as it may sound, in reality, it could give you the hardest time figuring out how to realise this one successfully.
Coca-Cola Christmas campaigns are usually all the way a great example in this category but we are showing a different one here. Amazon's "Everybody needs somebody" Christmas campaign will most probably make everyone on this planet smile and think about their loved ones and the time well spent together. What better feeling than this does a brand want its customers to associate it with?
Now, that we've covered the creative side of things, let's take a look at how we can make our holiday creative production more successful. What type of ads should we use and when and what do we need to have in mind while planning them?
Holiday banner ads
Holiday banner ads are a great way to get your customers excited about the holiday season. They're easy to use, and they can help you promote your holiday deals by displaying them in prominent positions on social media and other sites.
Go forth with confidence: Just like with any banner ad, don't hesitate to jump in! Play with the creative and see which ones do best. Optimize daily and use them to your benefit.
Know when to stop: If you are stuck in the creative production flow and need more inspiration and ideas on how best to build great holiday campaigns, book a demo to check Streameye's capabilities. We'd be happy to help out. It's our expertise, after all.
Holiday sale ads
If you're planning to run a holiday sale ad, here are some guidelines for setting up your holiday campaign:
Make it festive. Bright colours and cheerful fonts are good for attracting attention but don't overdo it. If your ad looks too much like a neon sign at Christmas time, people will lose interest pretty quickly.
Keep it simple. Your goal is to get people excited about your discount or freebie—not make them think they've made a mistake by clicking on an ad instead of entering the URL directly into their browser window. Keep the text short and avoid complicated language that might confuse your audience or make them feel like they need to read carefully before making a decision about how to proceed with the purchase process (or browsing experience).
Communicate plenty of offers. Get ready and prepare in advance so that you can meet more than just one of your ideal customers' needs this holiday season. Make sure you have an active offering for any of their pain points and bundle them up in nice festive packaging. If it seems like a full-time job for your entire marketing team for this quarter, you can always outsource the hard part and get the experts to do their magic. Streameye is here to help you spread your offers effortlessly. Book a demo to check how we can partner with you this season.
Holiday email campaigns
Holiday email campaigns are perhaps the most fun to plan because they're so easy and flexible. The best part? There are no rules. You can send an email with a holiday theme, or you can send an email that isn't festive at all—it's up to your brand and what you want to say in it.
There are some things to keep in mind when creating this type of campaign though: personalization, interactivity, engagement and relevance. A few tips for making these emails successful include:
Use personalised messaging for each recipient (if possible). This will make them feel valued as a customer, which is essential when it comes time for them to buy from you again!
Include links or images that encourage interaction (like polls or quizzes). This helps build rapport between you and your customers while also giving them something fun they'll enjoy checking out each day leading up until Christmas Eve.
Use a simple count down timer to the end of a Christmas promotion to communicate that the offer is available for a limited time. If you are not sure how to create one, we can help.
There are so many different ways to advertise during the holidays! What is most important about holiday ad campaigns is valid for practically any campaign your company is launching. It's finding what works best for your brand and sticking with it as long as possible so people know what to expect when they visit you next time around again (and hopefully keep coming back).
Have you found your brand's secret sauce to this recipe?